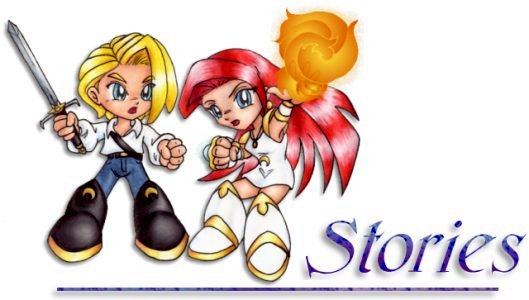 Stories
[The Collection]
A scientist sets out to study magic by capturing humans with strange powers.
His captives, however, are not in favor of his twisted experiments.
written by Karen McKenna
story by Karen McKenna and Kristin McKenna


[In Good Time]
When Julian's life is in danger, some familiar bodyguards must come from the
future in order to protect him. Bart and Bill play a trick on Gavin.
written by
Karen McKenna and Kristin McKenna




Comics
[Cris & Nino]
Corny sample comic. Cris is getting a babysitter for the kittens, and Nino is upset that
he can't do it... and that Anna isn't there. Vinnie is grumpy, as usual.
story and art by Karen McKenna


[Morning Coffee]
Myron is awakened by his cat and hears a knock on the door. Will he get to
see Bart? And more importantly, will he ever get his coffee?
story and art by Karen McKenna


Poetry

[Poetry Collection]
Mostly older stuff, all witten by Karen McKenna. Any illustrations are also by
Karen McKenna. Nothing great here.



Back to Main Page




All material featured on these pages is copyright Karen McKenna and/or Kristin McKenna, including all artwork and
literature. None of it is to be used without the expressed permission of the author/artist. Characters shown at top of page
are Julian Knight and Angela Rossi. Send any questions or comments to SoulDreamX@aol.com.